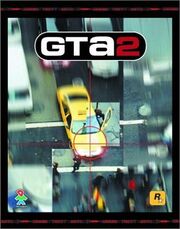 Grand Theft Auto Two (Abbreviated GTA 2) is a sequel to the 1997 hit Grand Theft Auto, by producer DMA Design (now Rockstar North). The Game was created for the Microsoft X-Box and the Sony Playstation 1, but was later adapted for the Dreamcast console and the Game Boy Colour. The PC and Dreamcast versions of the game are rated M for mature by ESRB, but the violence and language were toned down for the Playstation and Game Boy Colour Which Received a T for teen rating.
GTA 2 is set in an unspecified time in a futuristic metropolis referred to only as "Anywhere, USA", fictional journal entries on the GTA2 website suggest the year to be 2013.
The City is split into three Districts. The first is Downtown, holds all the buisness activity as well as the site of a large mental institution and university .