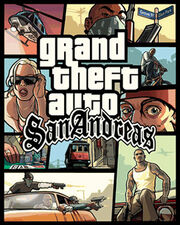 Grand Theft Auto: San Andreas is a 2004 free roaming action video game developed by games developer Rockstar North in the United Kingdom and published by Rockstar Games. It is the third 3D game in the Grand Theft Auto video game franchise, the fifth original console release and eighth game overall. Originally released as M (by the ESRB) for the PlayStation 2 in October 2004, the game was then released for the Xbox and Microsoft Windows (PC) in June 2005, and has received wide acclaim and high sales figures on all three platforms. It was made available on Steam on January 4, 2008, Available for download for Xbox 360 on October 20th, 2008, and on Intel-based Macs running a minimum of Mac OS X 10.6.6 in September 2011.
The game takes place in the fictional state of San Andreas in which there are three metropolitan cities: Los Santos, based off of Los Angeles , San Fierro, based off of San Francisco , and Las Venturas, based off of Las Vegas.
Plot and Gameplay

Edit
Gang member Carl "CJ" Johnson returns home to Los Santos, San Andreas from Liberty City after learning of his mother's murder and finds his old friends and family in disarray. Over the course of the game, CJ unravels the plot behind his mother's murder.
The game is like all of the others in the series, a combination of a third person shooter and a driving game in free roaming environment. Players can drive a variety of vehicles including cars, buses, fixed wing aircraft, semis, boats, helicopters, trains, tanks, motorcycles and bikes. As well as stealing vehicles, players may also call them in.
Creating havoc will result in catching a certain amount of authority attention, designated by a 1-5 star rating, zero for no attention at all and five for interference of SWAT teams, the military,and the FBI.