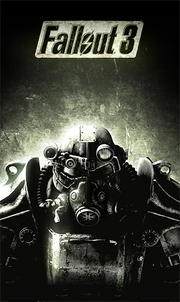 Fallout 3: Was a Personal favorite, and the 2008 game of the year. It is the third installment of a older PC game, adopted by Bethesda Game Studios.
It was released in North America, Europe, And Australia in October 2008, and in December for Japan for The Playstation 3, Xbox 360, And Microsoft Windows.
The Main Character (Antagonist or Protagonist Depending on Choices Taken), Lived a Quiet life in an Underground Vault Designed to Shelter a Certain amount of the paying Population. Then it Heads for the worst when The Players Father, His only Parent due to His Mothers Death during his birth, Escapes the Vault on a Mysterious Mission. He Must travel the Irradiated, Bombed out Ruins of Washington D.C. to Track Him Down. He is helped Along the Way by Multiple Beings, and Must Battle Humans and Animals alike who have Befallen a Harsh fate of Mutation and Insantity, but there other uninfected humans out with a Goal to just cause Chaos.....